The Modular Mast Systems Concept
Now available for hire & lease, a patented range of modular mast systems that provide the first sustainable alternative to telecoms, broadcast and other masts worldwide.
Talk to Us
The 'Modular Mast System'
AN INDUSTRY GAMECHANGER
With years of experience in the telecoms industry, the founders recognised a strong environmental need for a radical new mast design that required a generational leap in performance, whilst improving through-project costs and versatility. Now available for hire & lease the Modular Mast System is a globally patented technology offering unprecedented new opportunities to operators and owners globally.
MMS is a fully sustainable, simple, well made and comprehensive steel construction system. It is  primarily for building masts and towers of all types; and their foundations. Constructions of infinite variety are all accessible, adaptable and ultimately removable to be serviced and used again.
We have demo installations in the UK at our factory and by arrangement at existing locations.
Feel free to call Upshot on +44 (0) 1590 670845 for more information or visit our dedicated product website for up to date information HERE.
Our comprehensive full brochure linked above and on the dedicated site, provides more technical information.
KEY FEATURES
Orders facilitated in hours not weeks
A Customer ready stock allows masts to be in transit in hours
Low environmental impact
RFID tagged
Reusable, reconfigurable and resalable
Easy training & support
Low life-cycle cost
Designed and made in Britain
The new web portal with automated mast calculation will enable unprecedented rapid mast design.
Rapid pick list for immediate deployment.
Options to assemble in sections assembled prior to deployment, or close to construction, or piece by piece.
System-1 masts are climbable either internally or externally.
System-2 masts can have internal stairways or are climbable.
Ease of training and handling with reduced part types and regular common connections.
Ease of construction with pre-described and recorded torque settings when using OEM torque guns.
Environmentally totally inert. Zero threat to wildlife or ecosystems throughout continuous re-use.
Maintenance to OEM System-1 requirements provides companies with 100% sustainable development credentials.
COMMERCIAL BENEFITS
Versatile approach – one design adapts to all. – A limited number of components assemble to an infinite number of mast designs.
Future growth of payloads/headloads. – Masts are easily adapted without full mast replacement.
Simplification of deployment and construction. – The modular assembly simplifies calculation through to construction.
Rapid deployment, with readiness to deploy reduced from short order weeks to around one hour.
Climbable. System-1 has a lattice structure that presents foot rests at regular spacings that can be used inside or outside the mast.
Minimal footprint. The MMS is a parallel, non-tapering mast system, which can concentrate base loading into smaller footprints.
Reduced storage space between deployments. For example 1 kilometer height of System-1 cubes will store in 1000sq.ft. (93m2)
Re-useable, maintainable, trackable, scalable. Assured compliance in use and reassurance when buying and selling secondhand.
Low lifecycle costs, as with any high quality and maintenance recorded product with a then high resale value.
Minimal environmental impact. Zero through life component redundancy. All parts steel. Everything reclaimable by Mother Nature.
Equipment poles are routinely 60.3mm diameter, suiting most equipment brackets and readily linkable to global scaffold systems.
FAQ's
Some frequent questions and Answers
What Sizes Are The Masts?
The Modular Mast Systems are specifically designed to be erected at practically any realistic height. The System-1 modules are 1m and the System-2 modules are 2m high. This provides true aesthetic flexibility and scope for most environments.
Can Your Masts be fitted to legacy Sites?
MMS masts can be deployed as unstayed towers, or as masts with a very small stay radius; with stays that ordinarily anchor to the mast base weight. For example our System-2, 30m Hub mast has a base option under 7m diameter.
Are Your Systems Fully & Easily Removable from Sites?
Every component of our inventory can be removed from site. Our surface mounted bases serve to mini-mise ground disruption; in itself a huge benefit environmentally.
How Do Your Costs Compare To Traditional Masts?
The Modular Mast System has been designed to absorb as much project cost as possible. Principally the use of the Modular Mast System realises a potential:
99% sustainability (An inventory you can trade)
80% reduction in mast design costs (One system, many masts)
95% reduction in deployment time (Configure in minutes, pick from stock)
60% reduction in warehousing (It all stacks up)
40% reduction in training (Train in one system, not many masts)
Does Anyone Else Make Similar Modular Masts?
Our technology is worldwide patent protected so we are not only the first to manufacture this system, but also the only company globally building anything like it. Please inform us if you become aware of any imita-tions and by buying a Modular Mast System product, you can rely on strenuous safety and build quality checks and balances and full support and expertise born of thousands of hours of meticulous design and installation experience.
Can We See An Existing Mast in Person?
We have a demo mast available for viewing at our factory in Derbyshire and if you are a major operator or similar, we may be able to show you one of our installations, subject to approval. Some of our sites are sensitive and require special access or permissions to view them. Please reach out to James Pickance on +44 (0) 1590 670845 or via his mobile on +44 (0) 7973 763590 or send an email to: [email protected] in the first instance.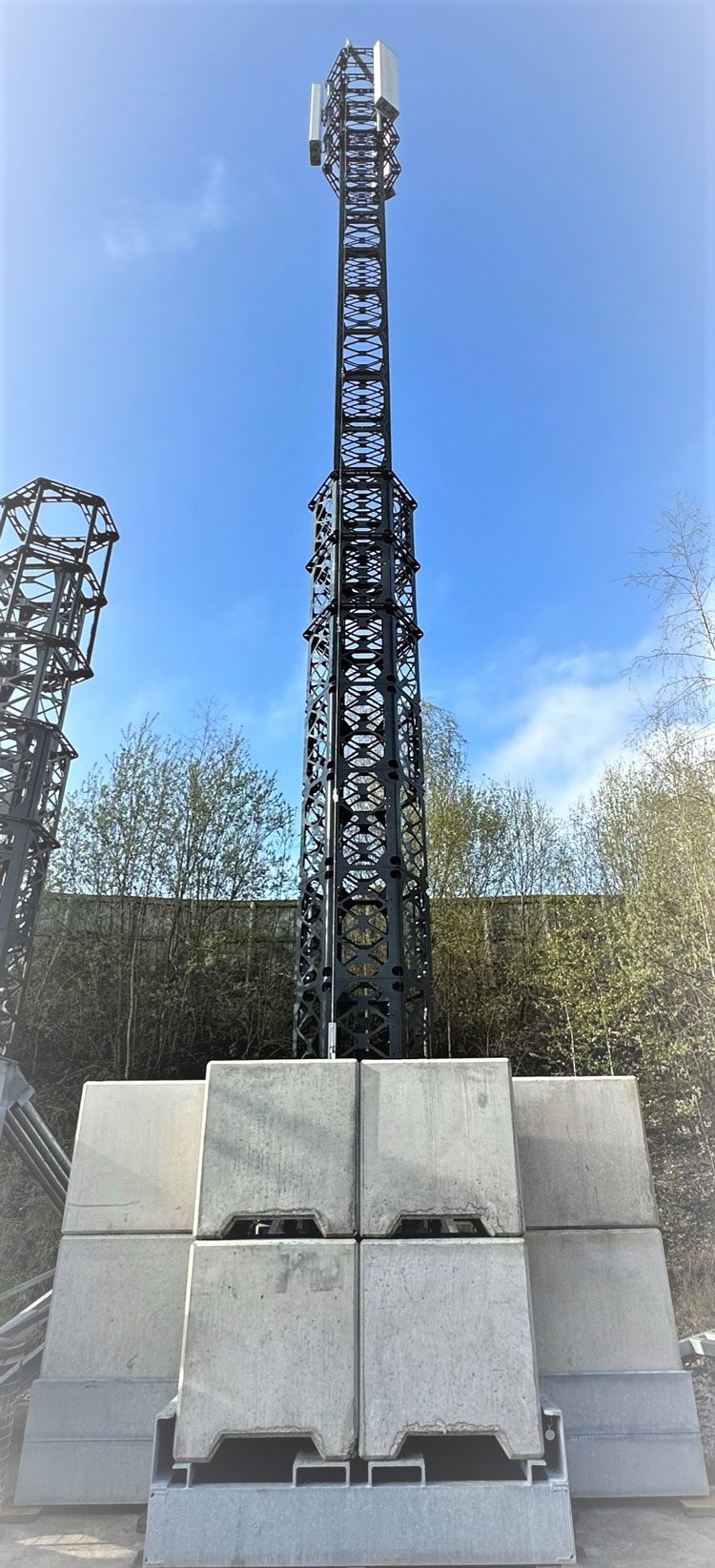 Video
A short explainer video that you may find helpful. Click to view:
Gallery
Click on one of the images to launch the gallery.